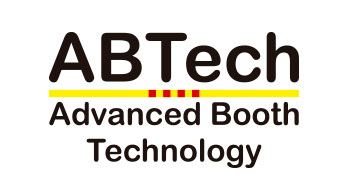 Info
Carton Furniture
ABTech (Advanced Booth Technology), designer and manufacturer of new patented system of booths, located in Barcelona (Spain).
Welcome to reuse and saving, ecology and innovation. ABTech creates your booth in card board without losing your corporative image. Reuse it show after show modifying many times as you want its advertising image. Change your space quickly. Saving and sustaintability in one product. Short manufacturing times.
FEATURES AND BENEFITS
Built in high quality and light card board recycled and ecologic
(Re-Board TM http://storaenso.reboard.se/re-board)
Finished with high definition printing
Combine it with other materials (LED lighting, textiles, methacrylate, glass, leather, etc.) and decorative design elements
ABTech it's like or better than a carpentry booth
Build and take down your booth many times as you need, in hours, not in days
Taylored packaging
Cheap and easy transportation and storage
Quick return on investment
Easy replacement of damaged parts
Removable stickers and vinyls
No tools either skilled employees needed
100% RECYCLABLE AND ECOLOGIC
To build a ABTech space, you use 4 times less wood than to build a carpentry booth. CO2 emission for sqm it's reduced 90%. Re-Board TM is manufactured using the most e"cient methods in terms of energy. Re-Board uses water gum and therefore it's 100% recyclable. For printing we use ecologic inks. First you reuse, after you recycle. Environmental savings (not noises in the assembly, savings in transportation and storage).
PATENTED SYSTEM
The innovation and ecologist aim are not only in the card board used in ABTech products. Our closing system patented it has been thought to build big and stable structures of card board that once taken down can be storaged in #at card board boxes.