11 October, 2017
Posted by:

ITHUB

Category:

Sin categoría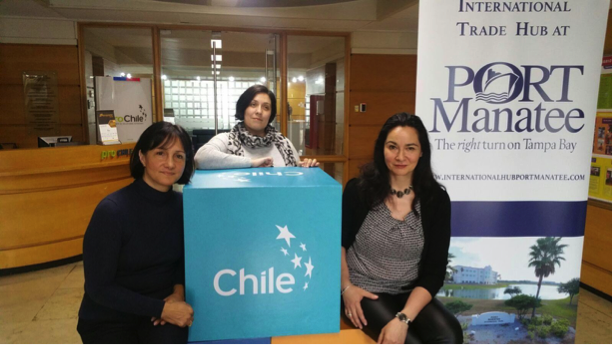 This past Tuesday, October 26, the International Trade Hub of the Port of Manatee met with the office of trade promotion of the state department of Chile, PROCHILE, in Chile's capital, Santiago. Thanks to the support of the Chilean trade commissioner to Florida in Miami, Sacha Garafulic, Marina Besadalombana from the Trade Hub met with PROCHILE's representatives of North and Central American and Caribbean markets, Jeannette Jofre and Sylvana Gattini. The purpose of this meeting was to discuss the promotion of Chilean commercial interests in Manatee County and further establish economic ties through the International Trade Hub and Chilean businesses. Over the course of the meeting, therefore, PROCHILE generated an agenda for the Trade Hub to establish connections with the following Chilean institutions and businesses:
– Chilean-American Chamber of Commerce (AMCHAM),
– Chilean Exporters Association (ASOEX),
– And businesses including Patagonia Mussels, Chilean Olives, Chiletec, Picso Chile, and Chile Prunes.
PROCHILE has also extended to the Trade Hub an invitation to present this coming Spring regarding business opportunities in Manatee County. We are excited to work with them more in the future!