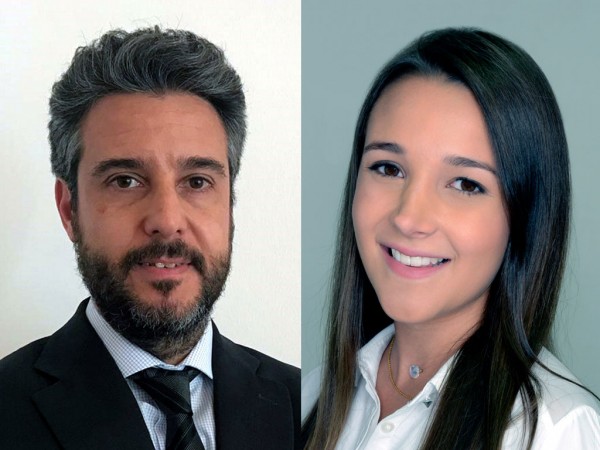 Left: Peter Casanova serves as representative in the Spain office for the ITHUB.
Right: Carolina López is the newly appointed representative for the ITHUB office in Colombia.
PALMETTO, Florida – The International Trade Hub at SeaPort Manatee is bolstering its efforts to facilitate productive links for global commerce with the opening of promotional offices in Latin America and Europe.
"The opening of these two offices is a momentous step in connecting world markets and the dynamic business community of greater Manatee County and Southwest Florida," said Iván Mutis, coordinator of the International Trade Hub at SeaPort Manatee since its inception in 2014. "The Latin American and European office presences perfectly complement the successful initiatives the trade hub has been advancing over the past five years."
The Latin American office, in Medellín, Colombia, is led by representative Carolina López, chief executive officer of Manatee Operator Consulting Group, while the European location, in Barcelona, Spain, is spearheaded by representative Peter Casanova, economist, partner and chief financial officer with Brosa Abogados y Economistas.
"The offices provide soft landing platforms in major global markets for leaders of businesses of Manatee County and all of Southwest Florida exploring opportunities in Latin America and Europe, respectively," said Carlos Buqueras, executive director of SeaPort Manatee. "We already are making plans to further expand the global office presence of the International Trade Hub at SeaPort Manatee."
The Latin American and Caribbean region represents more than 55 percent of Florida's overall foreign trade, while Europe accounts for nearly 17 percent of such activity, according to Enterprise Florida.
The trade hub, based at the SeaPort Manatee Intermodal Center, serves as an invaluable catalyst for introducing global companies to the business-friendly environment of greater Manatee County and Southwest Florida while helping the region's entrepreneurs make the most of beneficial connections worldwide. The hub has conducted expo-style showcases throughout Florida and has received visits from high-level government and trade officials representing more than a dozen nations, including Argentina, Canada, Chile, Colombia, Costa Rica, Dominican Republic, Ecuador, El Salvador, Germany, Guatemala, Honduras, Japan, Mexico, Peru, Poland and Spain.
"The proactive efforts of the International Trade Hub at SeaPort Manatee, including through foreign offices, furnish advantageous opportunities for expanding the already impressive socioeconomic contributions of SeaPort Manatee throughout our region," said Vanessa Baugh, chairwoman of the Manatee County Port Authority.
The International Trade Hub at SeaPort Manatee, founded in 2014, serves as a vital link between markets in Florida and throughout the world. The hub provides expert advice and support tools to local and global firms, assisting them with production, distribution and related activities, including development of innovative supply chain solutions.
Located "Where Tampa Bay Meets the Gulf of Mexico," SeaPort Manatee is the closest U.S. deepwater seaport to the expanded Panama Canal, with 10 40-foot-draft berths serving container, bulk, breakbulk, heavylift, project and general cargo customers. The port generates more than $2.3 billion in annual economic impact for the local community, while supporting more than 24,000 jobs, without levying ad-valorem taxes.